From pretending to drive TF8418 as a 6 year-old, Simon Robinson now drives it for real over 50 years later.
My dad first fell in love with the TF shape after seeing his lecturer turn up at university in a brand new black one in 1954. He bought 36 EMG in 1960 from a posh gentleman in Oxford who had bought it as a fad, used it for a few months, then stored it for a few years in one of the barns on his country estate.
A few years after buying it, my dad proposed to my mum and it was used as their wedding car. Then kids came along. My parents used to put my brother in a crib across the back but soon realised the car was too small and dangerous for a 2nd baby and a 2 year-old. So just before I was born, my dad rested it up in the garage with seemingly no plan whatsoever for it. By then my mum had a Mini and my dad had his dad's old Morris Minor.
My first memories of my dad's MGTF are of me, at 6 years old, and my brother 8, helping my dad dismantle it. Like I knew what I was doing at the time! But in my head, I was chief mechanic. I was already car mad even at that age.
The 'dismantlers' at work. Not readily apparent from this picture size, but on 'blowing it up' it looks as though the 'chief mechanic' is removing a wing mirror.
I had some incredible virtual road trips in our MG. From 6 years old to around 14 years old my parents knew exactly where to find me ……………sitting in the car as it gathered dust in the garage, partially dismantled, pretending to drive it. I sometimes had the roof up, and sometimes down; the pretend journeys I had in that car over my early years were amazing. And it never broke down on me once nor did I get caught in the rain with the roof down and I never had an accident. Although I do remember getting a few imaginary speeding fines, but only on those occasions when the police were able to catch me.
At 16 years old, and during my college years training to be a motor mechanic, I took the engine and gearbox out, lifted the tub off and sanded down and primed and prepared the chassis. I'm not sure why. I guess I hoped my enthusiasm for getting the MG back on the road would rub off on dad. I convinced my dad to buy a new tub and wiring loom and my brother borrowed the Scout Club's transit van and we picked up a brand-new tub from Brown and Gammons. We had no plans for the car, but I knew at some point it would be back on the road if we kept badgering dad about it. However, by the time I was 25, my kids started appearing and other priorities, such is life, got in the way, and it remained in dad's garage, even more dismantled than before.
As the years went on, my dad had a couple of failed attempts at giving it to various garages to tinker with and start the rebuild. However, there was no real enthusiasm from dad, or the garages, and whilst some of the bodywork did progress, the years dragged on and on.
Eventually my dad retired and I was nearing 40 years old. Unbeknown to me, my dad approached Brown and Gammons who offered to try to sell it as a project. When he mentioned this to my partner, she quite assertively told him he'd lose a son if he did.
I'm not sure whether this prompted action or it was just a case of him realising that if he didn't do something with it soon, the expertise which this country should still be very proud of, would eventually get so scarce it would be financially impossibly to justify any more work on it, let alone finding someone to do the work.
So he eventually commissioned a garage to take on the project…..and finish it….. some 45 years after its last drive.
Dad wanted as much of the original car kept. He did not want a concourse example. He wanted a car that was good enough to enjoy but not too good that we were too scared to drive it.
Having been off the road for most of its 65 years it has a genuine 24,000 miles on the speedo and is a genuine 2 owner car, my dad having had it for 60 of those. And, other than the usual rusty wings etc and age related rather than use related areas, was in amazing condition. The garage inspected the engine and refurbished the head with an unleaded conversion. It had new wings, bumpers, petrol tank and wheels/tyres (all replaced due to the economics or replacing over refurbishing). They installed the wiring loom dad had bought 20 years previously, popped in a new clutch and a refurbished gearbox.
When preparing it for paint, the garage also realised the original colour was green. For some reason the gentleman who originally bought it didn't like the original colour so it had been resprayed cream in its first few years. Dad decided to put it back to the original green, however, decided it needed to be a slightly modern version and decided on a metallic Aston Martin green. It was also fitted with a new complementing beige interior and hood instead of the original black.
He then, eventually, took delivery of it back to his house in 2015, where he then covered it over with a tarpaulin and ignored it for most of the next few years, getting it out very occasionally on a very hot summer's day. I finally proposed to my partner of 23 years in 2018 after dad said I could use it at the wedding.
Having inspected the car, we realised it wasn't faring very well under a tarpaulin on dad's drive and the new hood was beginning to go mouldy and the wheels had minor surface rust.
So, I finally prised the keys from my dad and it finally came home with me……I finally got to drive the car of my childhood dreams……. My bucket list car……
And I now drive the car fairly regularly. It pulls remarkably strongly, keeps up and slows down enough to make it great around modern traffic. It's got a 4.875 rear diff (which I guess is a standard ratio) so it will sit at 55mph reasonably comfortably and will get up to 70mph – as long as it's not for long – and the car puts a grin on my face wherever I go.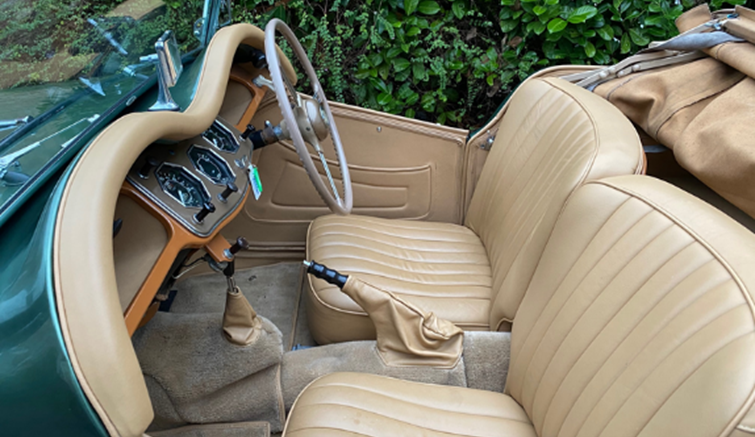 I love taking my fiancé out for drives in the country just like my mum and dad would have done 55 years ago…. before I came in to the world. My mum has since passed so never got to see it back on the road (or us married) but the car gets admiring looks wherever it goes. And it's not without its own charm, leaving the usual hints of MG wherever we go (i. e. a small pool of oil under the front and rear of the sump where I cannot seem to get the seals to fit properly!).
But I feel like I'm transported back to being 6 years old every time I drive it. Yet this time, I can actually drive to the beach with the roof down for real. And as for using the car for the wedding – well – Covid hit, so May 2020 was delayed till 2021 and then delayed again….. So here's hoping for 2022!