Rod Murray, Nelson,BC, Canada
In the middle of 1956, a lanky 10 year-old kid (Rodney Murray) went to the Odeon Cinema in Luton, Bedfordshire, England, to see a special showing of the movie called "Reach for the Sky", the wartime story of Sir Douglas Bader of the RAF. That day the aforementioned lanky kid fell for two things; Flying and 'Square Rigger' MGs.
Coming out of the cinema into the lobby, Sir Douglas stood there on his 'tin' legs with a cane in each hand. That kid (me) went up and shook his hand…. Awestruck! As the kid left the foyer, out in front of the cinema, there stood, parked, a magnificent MG T-Series – a TA – with hand controls obviously belonging to Sir Douglas. From that experience, a memory was made, never to be forgotten.
That kid left England in 1965 for Canada, where the first love was indulged, flying privately, all over North America, until retirement at age 67.
Knowing that the flying days would be coming to a close, that kid (now mentally still a kid) knew that there needed to be another hobby, to replace flying. The second part, of that early memory, began its ascension. A friend offered him an MGA, but the T- Series memory was still there awaiting, a siren not to be ignored.
In early 2008, research settled on a TF variant, being the most desirable to that ageing kid, and an extensive search was initiated. It finally led to what was advertised as a 55 TF for sale, actually a 54 but titled in 55, by a Podiatrist, living in Ohio. He had, unfortunately contracted MS and was now having to sell off his un-started TF project and MGB. It's an ill wind…….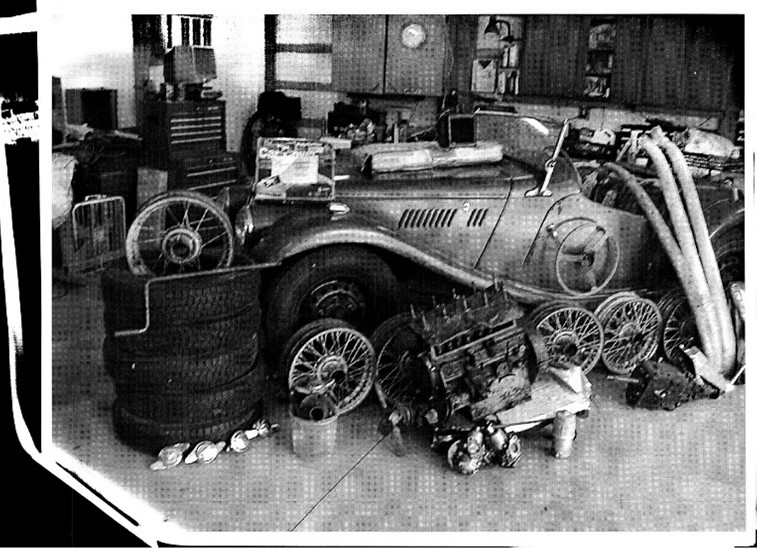 TF3006 – The start of the project…
A trailer was borrowed and in the summer of 2008 a trip was made to Ohio and the car began its journey to Calgary AB Canada to start its 13 year- long restoration. The car was dismantled in Calgary with the parts graded, bagged, marked and listed with a second list generated of "stuff" needed and a worldwide search for parts began.
After the subsequent retirement, everything was moved to Nelson BC Canada where the restoration began in earnest. Winter months were spent in Tucson Arizona (MG parts trailered down and back, for restoration/refurbishment), and summer months were back in Nelson BC with EVERY part being refurbished back to like new condition, or it was replaced. Every nut, bolt and washer was cleaned/de-rusted, re-threaded and then coated with a product called RPM, designed to prevent ferrous metal from rusting.
The frame and every body part was inspected and repaired, then prime coated with a paint called Master Series, a single stage epoxy that was designed by a chap who restores old VW Bugs and claims that once coated, prevents future rusting. There was actually little rust on body parts as the car had sat covered, in the rear of a heated garage, for some 30 plus years.
Some parts were sent out to specialists for refurbishment as follows:-
The Dash Instruments were sent to John Marks, back in England, where he did a magnificent job of restoring them to a like new condition.
The rear end gearing was changed to 4.3 to 1, done with a friend in Calgary.
The SU Fuel pump was rebuilt by the late Dave Dubois.
The Distributor was rebuilt by Jeff at Advanced Distributors.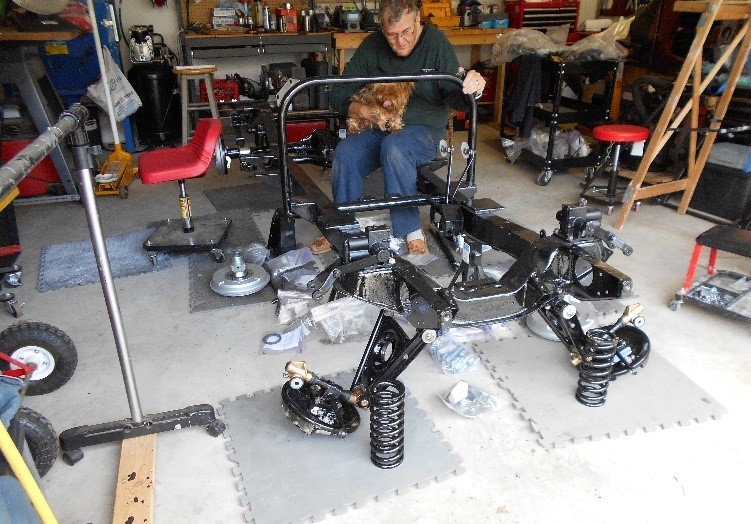 Some bits to be getting on with!…….
When purchased, the car had a wrong 1500 BMC 'B' series engine in it, so it was removed along with the incorrect MGA gearbox. In its place the correct XPAG was put back in, along with the correct gearbox – both of which were rebuilt using videos; the engine using the Edney video and the gearbox using the Barry Jones video. The engine got a reground crank, new main bearings, reground camshaft, refurbished valve train, new pistons, new rings, new Edney grooved tappets, pushrods, MGB fan, and a rebuilt Laystall aluminium head. The gearbox and shifter were disassembled, then rebuilt with new bearings.
The engine, gearbox, rear end/axles (including new half shafts from the late Jerry), new 48 spoke wire wheels, new old driveshaft, re-cored radiator, were now installed back onto the frame.
Good progress being made – summer of 2015.
The front axles were rebuilt and a new Moss Rack and Pinion steering gear were added also. The brake lines were replaced using the new NICOPP softer alloy and all new rubber hoses. The clutch rods installed were the new Declan Burns SS units with bearings.
Now the tub! All the old wood was removed and replaced with a Mountain Ash kit from NC. All the inside surfaces were cleaned, rust removed, doors included, then painted with the one part, rust proof, epoxy paint and then reassembled over the new wood using non-ferrous nails and screws. A new firewall was added as the old one was chopped about to fit the wrong 1500 engine. The doors were hung using refurbished, bushed, hinges and mostly refurbished door hardware.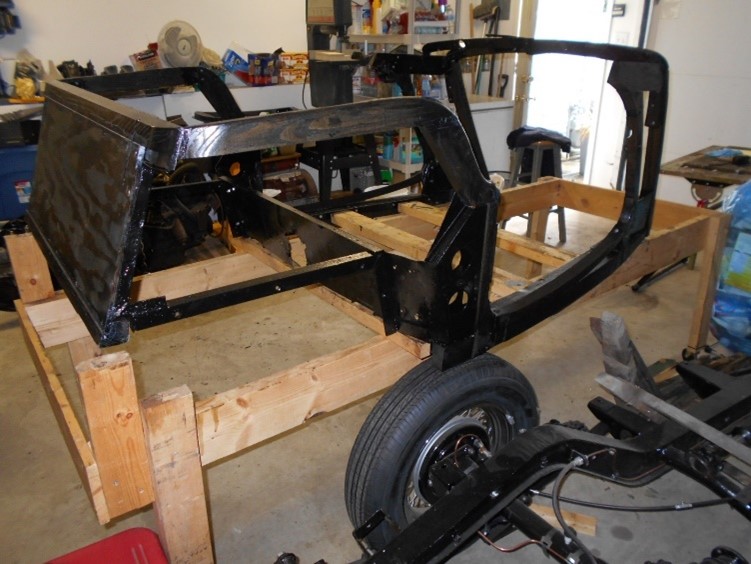 Above: new tub assembled from a kit – Below: door fitted.
It was now time to prep for paint. The body pieces were treated to planishing hammers and good quality body filler then sanded….. What a repetitive, ugly job!!!!!! Dust over EVERYTHING! Two Part Epoxy Primer paint was then used over which a Base Coat Clear Coat two-part epoxy was sprayed using a HVLP gun. Done in the garage.
All the chromed parts were done at a shop in Tucson AZ before the shop was closed down for environmental issues.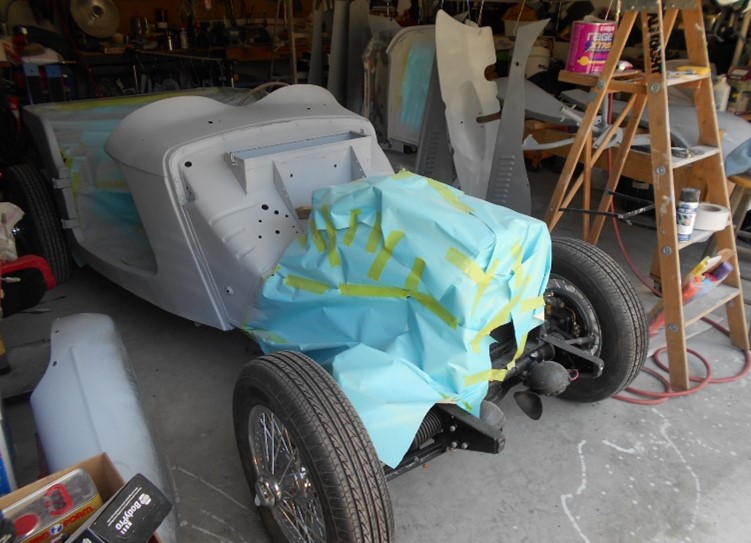 Above: Tub and firewall in primer –and Below and Below again: paint job.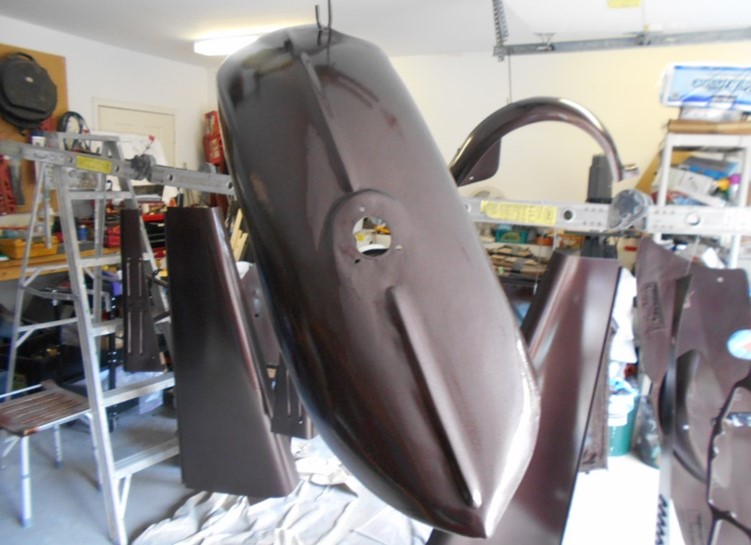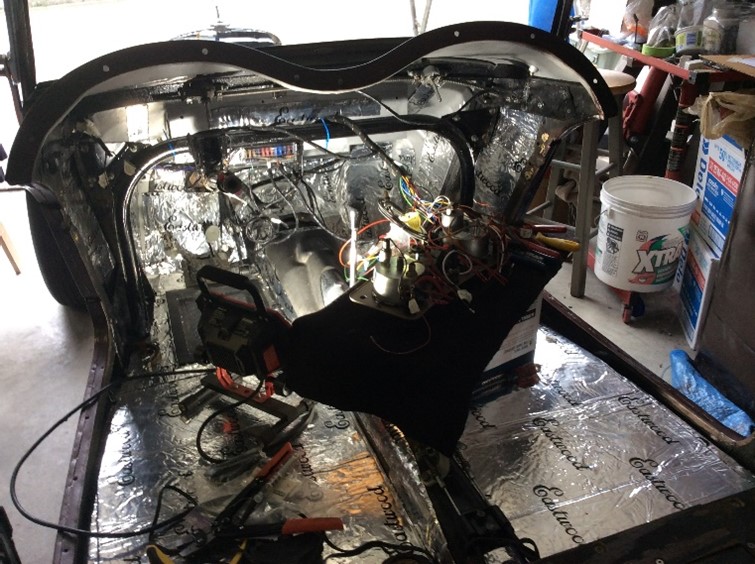 Installation of lead sound/heat insulation
The tub was now mated to the frame using roof rubber instead of felt and the doors and tub bolts adjusted so that the doors shut clearly and crisply. The tub interior was refinished first by installing lead sound/heat insulation then using a light tan/biscuit colour vinyl, with the seats refurbished, then reupholstered, in leather, by my wife (Glenda) of 54 years.
A black carpet kit was also installed. The steering wheel and column were added. The metal dash was painted and new glove boxes added. The instruments were installed to the dash, after the clock was modified with the electronic upgrade, then loosely installed. All of the other body parts, gas tank, chrome parts, wings, windshield etc were attached. One invisible change was made to the side panels. They were "Split" per the Jim Melvin (SOCAL) design. The accessibility, for maintenance, this provides to the engine compartment, is now equal to the TD. Stone Guards, from Australia, for the rear fenders were chromed and installed.
Time for the loom! The loom came from British Wiring. Every end was tinned and every wire tagged. Since the original TFs only had 2 fuses, an extra panel with 12 extra fuses was added, thanks to the design from Evan of Dayton Ohio. The Dash was re-pulled and every circuit was then completed using the correct connectors. The rear light interiors were changed to include LED circuit boards, made by Geoff Baker in Tucson. Light output is significantly better than the originals.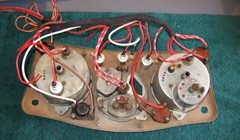 Dashboard and front wiring.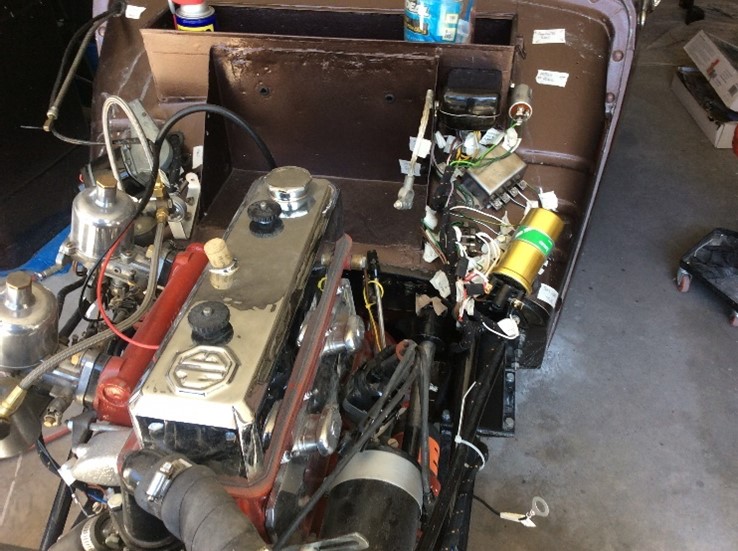 Hood and Tonneau were supplied by Don Trimming and were installed using Snaps and LTDs on the rear of the tub.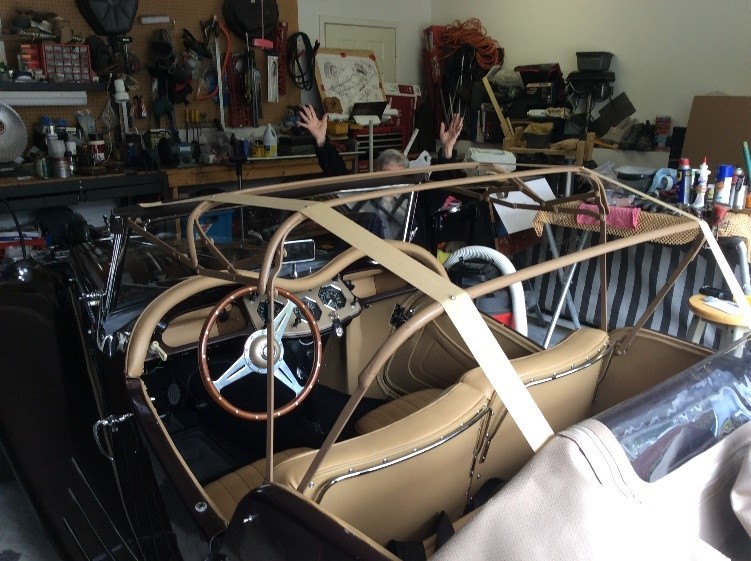 Above: Hood installation – Below: Seats refurbished then reupholstered, in leather, by Rod's wife.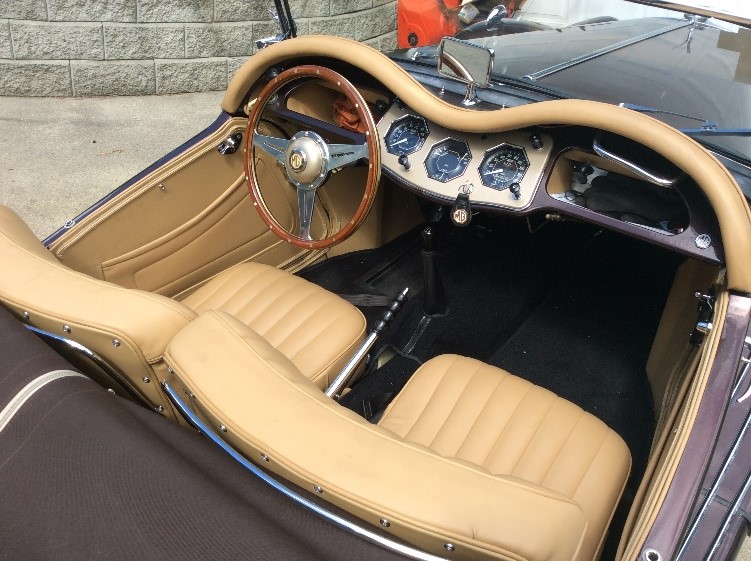 Parts for this car were procured from all over the world, using the Steve James Auctionwatch site and without that site this restoration would still not be finished.
The two main BBS sites, MG Enthusiast, MG Experience and the TTT2 web magazine have been an absolute source of inspiration and help. Many have contributed their time and efforts to help me complete this project and I will forever be in their debt.
Suppliers like Moss, Abingdon Spares, The Little British Car Company, Brown and Gammons, John James, Tom Lange and the many individuals from whom I have received parts, have played a major role in the completion of this project.
Finally, there are two others that I would like to thank; the first is a very wonderful man, George Raham, who through this process has become a great friend. He has owned a 1950 TD that HE drove off the Sales Lot in 1951 and still has it. He more than anyone has provided parts, advice, help and kept my interest from lagging by periodically letting me drive "Black Beauty"….. The second is my wife of 54 years. She has been a second pair of hands, whenever needed, and put up with my absence into the garage and has seen the air turn "blue" too many times to recall. I am forever in her debt in her efforts to help me achieve that 10 year-old lanky kid's T- Series dream.
On to the "Shakedown"!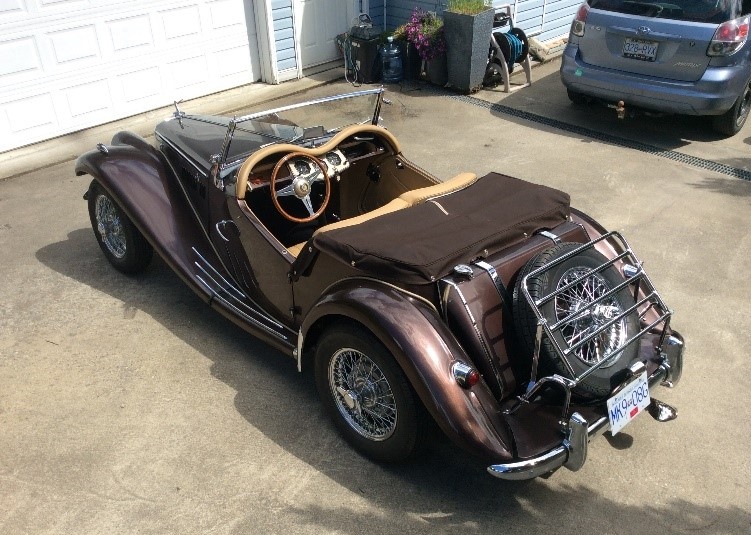 Ed's note: Brilliant story Rod and a wonderful restoration!
UK Readers may like to know that the sound/heat insulation is an Eastwood product stocked by Frost Restorers Equipment https://www.frost.co.uk
It is available as Part number 12117 "Eastwood X-mat Low Profile Sound Deadener Material Kit" (9 piece) for 129.99 GBP.
Part number 12118 is as above, but 3 pieces for 53.50 GBP.
Part number 12116 is the 1piece equivalent for 19.99 GBP.
The material is self-adhesive.