I read with great interest the recent article by Colin Hooper in TTT2 # 7 on his experience of installing a supercharger on his 52 MG TD. What captivated me about the article was not the supercharger system, but rather his opinion of it, as I am the guy who designed and built it.
Supercharging a MG T-Series today is nothing new; in fact when our cars were in current production there were over half a dozen different manufacturers that were making kits. The enthusiast driven aftermarket quickly saw the limits of the mighty XPAG and jumped on the opportunity to add some sorely missing "grunt" to Abingdon's meagre effort. English companies such as Shorrock, Marshal-Nordec, Arnott and Wade made superchargers, as well as the Italians with SCoT and Itel-Meccancia.
Even we colonials got into the act with our American home-grown effort from Judson. Most MG T owners nowadays tremble at the thought of supercharging their cars as they all have heard the dark tales of destroyed engines, broken crankshafts and mushroom clouds of lost money. In these stories the teller usually has forgotten to mention that when the alleged engine failure occurred, he was p*s*ed out of his mind, running 7,000+ RPM and fitted it to a worn-out old lump with millions of miles flogged on it. The truth is a properly set up supercharged engine is every bit as reliable as a normally aspirated one, maybe even more so.
How? A supercharged engine is able to make more power at a lower RPM than an atmospheric induced one due to better intake charge distribution. Also the power impulses on the crank tend to be more equal in strength as the intake charge is under pressure.
How does it all work? In a perfect world (with our XPAGs being 100% efficient) when the intake valve of a XPAG engine opens, air and fuel fills the 312.5cc volume of each cylinder with the pressure of the atmosphere at around 14.7 psi. The net result of all this is around 50 horsepower produced at the crankshaft. Now if the pressure filling the cylinder were raised by 50%, you would now stuff 468cc's. into the same volumes yielding a corresponding increase in power. So a supercharger adding an additional 7.5 psi pressure or "Boost" to the intake system, should now give you 75 horsepower.
The reality with our XPAGs is we really only see about a 40-45% increase due to the inherent inefficiencies of the engine. Still a 45% increase is wonderful improvement; remember that when you are pulling on to the motorway next time with your stock spec motor.
Note: All dyno measurements taken at the rear wheels.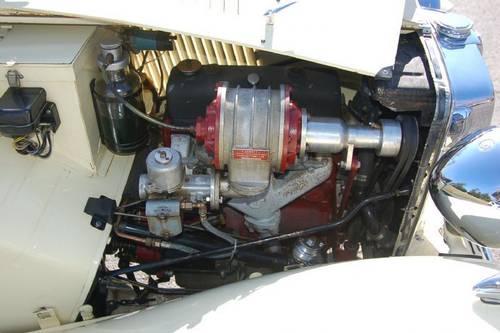 The superchargers originally offered for the XPAG engines fell into two basic categories: "Roots" pump type superchargers such as Marshall- Nordec, Wade and SCoT and concentric compressors, such as the Shorrock, Arnott and Judson. These two different type superchargers achieve the same result of pressurizing the intake system of the engine, but go about in two different manners. The Roots design is an air pump; it makes no pressure internally in the supercharger, but pumps the manifold with fuel and air faster than the engine can ordinarily consume it, creating pressure in the intake tract. The concentric superchargers trap a volume of air and then internally compress it before releasing it into the inlet tract. The German word for supercharger is "Kompressor" and Mercedes proudly emblazes the sides of their product with it, though in reality, they actually use a "Roots pump" type supercharger!
For years I have fooled with superchargers on MG T-Types; this initially involved rebuilding old units and in many cases, making new parts for them as well. The problem is that the original units that crop up for sale on Ebay and at the autojumble, are 50+ years old, expensive, often need rebuilding and lord help you if you need replacement parts!
After years of supercharging MGs, I became involved in supercharging current production vehicles as a vocation. I was supercharging new cars during the day and old ones (MGs) at night. It was bound to happen, and it eventually did; the two crossed and a new XPAG supercharger system was born. I was working for Moss Motors at the time developing Mazda and Honda superchargers for their Jackson Racing division. For the T-Series, I chose to use an older design "Magnacharger" M60 as it had the right flow characteristics and a vintage look and these units sold well until the manufacturer decided to discontinue the unit. I think Moss sold around 200 of these units over a 4 year period. During this same time I left Moss for greener pastures in the supercharger field, but not before I designed their MGB supercharger system as well.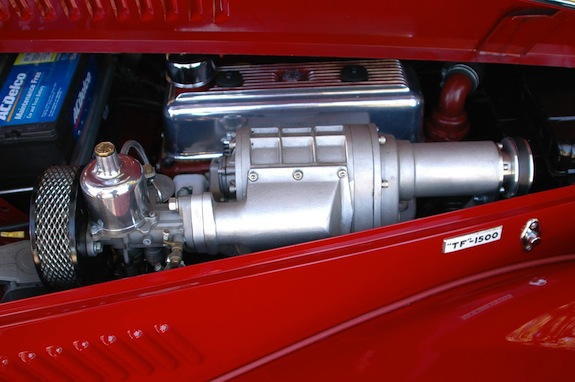 Even after I left Moss, my MG brethren continued to hound me for a new XPAG blower as Moss's supply had now dried up. By this time I was working for a major OEM supercharger supplier and was supercharging tens of thousands of TRD Toyotas and new English vehicles as well; the current Lotus Elise SC and Exige. I built a handful of new systems for the T series using an Eaton based MP45 supercharger built by my current employer with parts based on the old Moss system. By happy coincidence, those parts ran out at the same time as the supply of the appropriate blower to fit them dried up. This forced me to start from the beginning for the third time with a clean sheet of paper. This new system was inspired by the vintage predecessors but uses modern technology to achieve a better result. I also added all the improvements I had learned from the earlier iterations. This Supercharger is designed to fit the XPAG and XPEG engines fitted to MG TB-TC-TD- TF sports cars from 1939-1955, providing a boost pressure of 6-10 psi depending on engine configuration. Higher boost levels are possible and this supercharger under racing conditions is capable of supporting an engine to over 150 bhp with the correct modifications as necessary.
With my new system, I felt I needed it was time to give it a proper name other than "just another one of Terry's blowers". Years ago one of my MG mates, Craig Cody dubbed my home garage "Mirage Garage" as I was always working on MG projects there. Well the name stuck as I now had a product for a business that does not exist. (hence the Mirage aspect) The new Mirage Garage supercharger is the result of over thirty years of supercharger experience and development. It utilizes the latest Eaton 5th generation MP45 supercharger technology as used on the Lotus sports cars and In fact the internals of my blower are directly interchangeable with these cars. The standard kit will deliver 5-7 pounds of boost which is good for about a 45% increase in rear wheel horse power. The big boost kit that makes 8-10 psi is available too.
The supercharger unit is completely self contained with no need for external oil supply or drain lines, with the first recommended service at 100,000 miles, or in XPAG years, about the time your grandchildren will seek their pensions. The kit comes with everything necessary for installation except the carb. It uses a SU H4 (1-1/2") carb with some minor mods explained in the installation instructions. The supercharger installation requires no cutting or drilling and is completely reversible.
In Colin's article, he added an additional fuel pump, but unless you are going hard-core racing, your single, standard S.U. fuel pump will work just fine. Installation time is four to eight hours depending on the vehicle and your beer consumption. To date I have over 50 successful installations.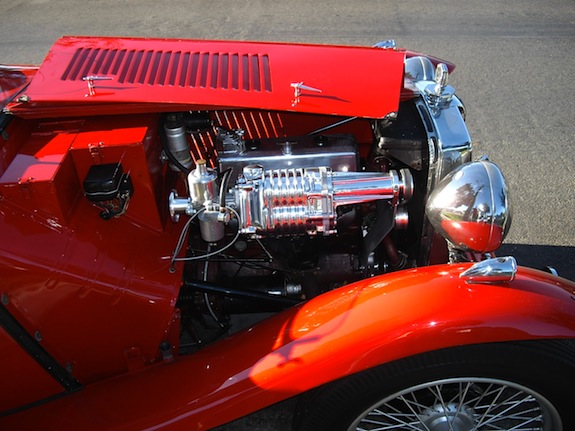 Driving a stock MGT in modern traffic can be a harrowing experience. You have a limited amount of power and must struggle just to keep up and not get run over. So to answer the big question: "What is it like to drive a supercharged MGT?" Here is a real world example: In the course of my testing there is a hill in my home town that is quite long and steep with an eight percent grade. When climbing it in my absolutely stock '53 TD, I found myself crawling up in 2nd gear while winding the engine at very high RPM just to try to stay up with traffic. Supercharging the same car, I can now blast up the hill quickly in 3rd with modest RPM. It is a good feeling to know you are able to run with modern traffic, and that you have reserve power to get you out of a tight spot. Distribution of my new Mirage Garage Supercharger kit is handled in the UK by Steve Baker at Steve Baker MGs steve 'at' stevebakermg.co.uk and in the USA by Tom Lange at MGT Repair and by myself tpeddicord 'at' rocketmail.com for the rest of the world and the USA.
Once you try a supercharged XPAG, you will never want to go back to a normally aspirated engine again. It is true what they say about power, it really does corrupt you!
Terry Peddicord
Ed's Note: Thank you Terry for an interesting article with some great photos.