Nowhere near as many for this issue as the last one, but three to find for Chris Keevill, who is the Early MG Society's (EMGS) Editor.
MRK 713 is a green 1954 TF which was in the ownership of Chris' mother. A DVLA enquiry confirms that the car is on the road. Here's a period photograph: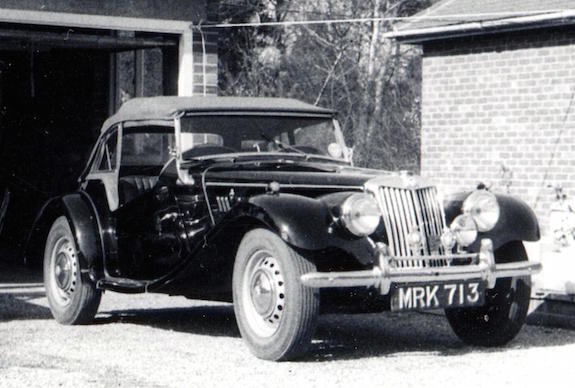 Next is TC8208, registration mark KNA 494, which was owned by Chris' brother. Again, it is known to DVLA and is listed as having a 1500cc engine and is maroon in colour.
The third car is TD9712, a cream '51 TD, which sports the registration mark AFL 972 and is on the road.
There was actually a fourth car – an MG PB, (green) registration mark AYK 187. Sadly, it is not known to the Triple-M Register.
A success story to report from the previous issue's 'Lost and Found' concerns TC9044 (GWS 490) purchased by Richard Hinton in 1966 for 80 GBP and reluctantly sold to a USAF serviceman stationed in Lossiemouth (Scotland) in 1969. Richard was curious to know what had become of his car. Well, there must have been at least one change of ownership after the USAF serviceman because the car was bought by a Maryland chemist in c. 1976. It sat in his garage until May 2015 when it was bought by Tom Lange who brought it back to Maine; more in the next issue.
Finally, the owner of the TF1500 featured on our cover has details of the car from 1978 and would appreciate any information about ownership from first registration in May 1955 to 1978.